Erlanger proposes new emergency center in Bradley County, Tennessee
Location
The new center will be a Level IV Trauma Center to be located at exit 20 off I-75 and US 64 near Spring Branch Industrial Park. Approximately three of 15 acres Erlanger has under agreement are set aside for the Level IV Trauma Center serving adults and children in both Bradley and Polk Counties.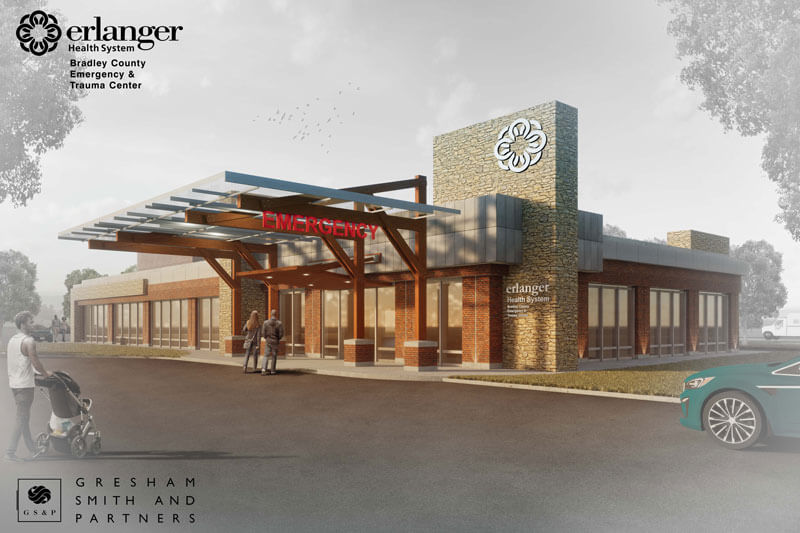 Services
Plans for the new site include support facilities for EMS personnel and an ambulance park, 12 exam rooms, including trauma facilities, observation beds for monitoring patients, a cardiac catheterization suite with observation beds, CT scanner, imaging equipment, lab and pharmacy services and a helipad. Patients will receive the medical care they need closer to home. In 2017, nearly 20,000 residents from Bradley and Polk Counties left these counties to travel elsewhere for medical care. Twenty-seven miles from the proposed site, Erlanger Baroness Hospital and Children's Hospital at Erlanger cared for the majority of these patients; the new facility will make it easier to access world-class care closer to home.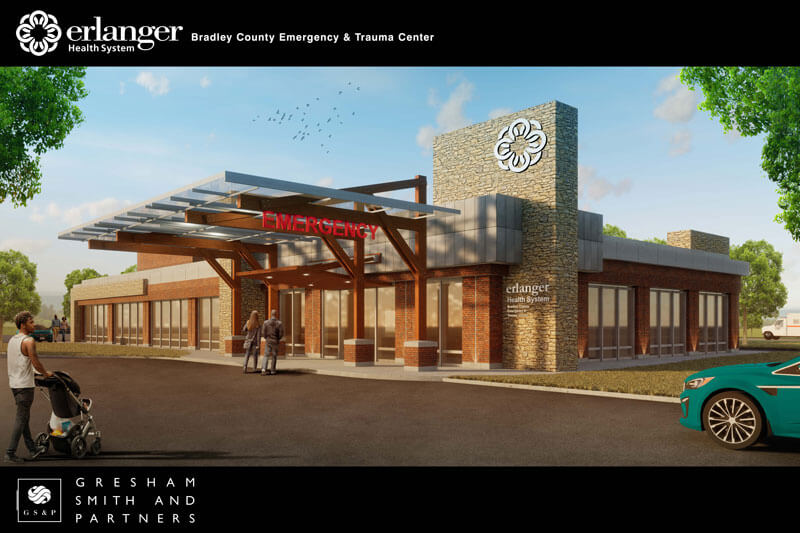 Regional Footprint
Erlanger's regional footprint in Bradley County already exists, with one of its six LIFE FORCE air ambulances stationed at the Cleveland Regional Jetport. Since opening its Cleveland Jetport facility in 2015, LIFE FORCE has transported nearly 500 Cleveland residents who, as members of the Air Med Care Network Membership, do not have to pay for air transportation services. Noted for providing "critical care in the air," Erlanger's LIFE FORCE helicopter is equipped with cardiac monitors, ventilators, ultra sounds, as well as blood and plasma for inflight transfusions.
Fulfilling the Need
Erlanger is not seeking to replicate services in Bradley County. Research shows there is a need for both adults and children to have the highest quality emergency center and trauma care closer to home. By building a new Level IV Trauma Center in Bradley County, Erlanger will serve other populations without medical services in the region and enable Bradley County and other EMS companies to reduce the number of transports to Chattanooga and Erlanger for emergency medical needs that could easily be treated locally. Patients requiring hospitalization would still be treated at Tennova, when services and physicians appropriate to the needs of patient are available.
Future of Bradley County
As Bradley County continues to grow with new residents and businesses, the new emergency center will help further development in the area and increase economic growth for the community's future.
Erlanger's Satellite ED Experience
This will be Erlanger's third satellite ED. Erlanger has a similar emergency facility in Dunlap, Sequatchie County and has received state approval to develop another emergency Level IV trauma facility in Pikeville (Bledsoe County) Tennessee.
The Next Step
Erlanger has filed a Certificate of Need application with the state to establish this provider-based ED/Trauma Center in Bradley County in an effort to serve those closer to home. The hearing will be held in Nashville on June 27.